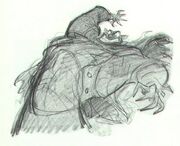 Ratigan (also known as Professor Padraic Ratigan) is a rat with mental illness and the main antagonist in
The Dark Side of NIMH
. He was the mysterious leader of
NIMH
. Ratigan plotted to rule the world and destroy Thorn Valley. But He was defeated by
Woody
and
Mrs. Brsiby
. He died after falling off the top of the stone aged castle following a fierce battle.
Ratigan served as the arch nemisis to Basil, Oliver and Nicodemus.
Ad blocker interference detected!
Wikia is a free-to-use site that makes money from advertising. We have a modified experience for viewers using ad blockers

Wikia is not accessible if you've made further modifications. Remove the custom ad blocker rule(s) and the page will load as expected.