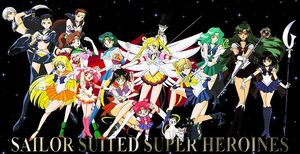 The Sailor Scouts (Japanese: セーラー戦士, Sērā Senshi, "Sailor Senshi; Sailor Warrior") are the reincarnations of individuals who live in Tokyo Toontown.
Membership
Edit
Sailor Moon (Serena Tsukino) (Cathy Cavadini)
Sailor Mini Moon (Rini)
Sailor Mercury (Amy Mizuno) (Tara Strong)
Sailor Mars (Raye Hino)
Sailor Jupiter (Lita Kino)
Sailor Venus (Mina Aino)
Sailor Saturn (Hotaru Tomoe)
Sailor Uranus (Amara Tenoh)
Sailor Neptune (Michelle Kaioh)
Sailor Pluto (Trista Meioh)
Sailor Starlights

Sailor Star Maker (Taiki Kou) (Kathleen Barr)
Sailor Star Fighter (Seiya Kou) (Britt McKillip)
Sailor Star Healer (Yaten Kou) (Tabitha St. Germain)

Tuxedo Mask (Darien Shields) (Vincent Corazza)
Ad blocker interference detected!
Wikia is a free-to-use site that makes money from advertising. We have a modified experience for viewers using ad blockers

Wikia is not accessible if you've made further modifications. Remove the custom ad blocker rule(s) and the page will load as expected.