Winnie the Pooh (also known as Pooh Bear) is a small teddy bear who lived in a tree under the name Sanders deep in the 100 Acre Wood. He wears a red shirt. Pooh liked honey and adventures. Pooh is best friends with Christopher Robin, Woody the cowboy, Fievel Mousekewitz, Piglet and Tigger. He is also great friends with Rita the fox.
In Hidden Chronicles - Pooh is the protagonist.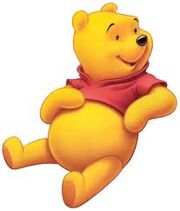 Ad blocker interference detected!
Wikia is a free-to-use site that makes money from advertising. We have a modified experience for viewers using ad blockers

Wikia is not accessible if you've made further modifications. Remove the custom ad blocker rule(s) and the page will load as expected.